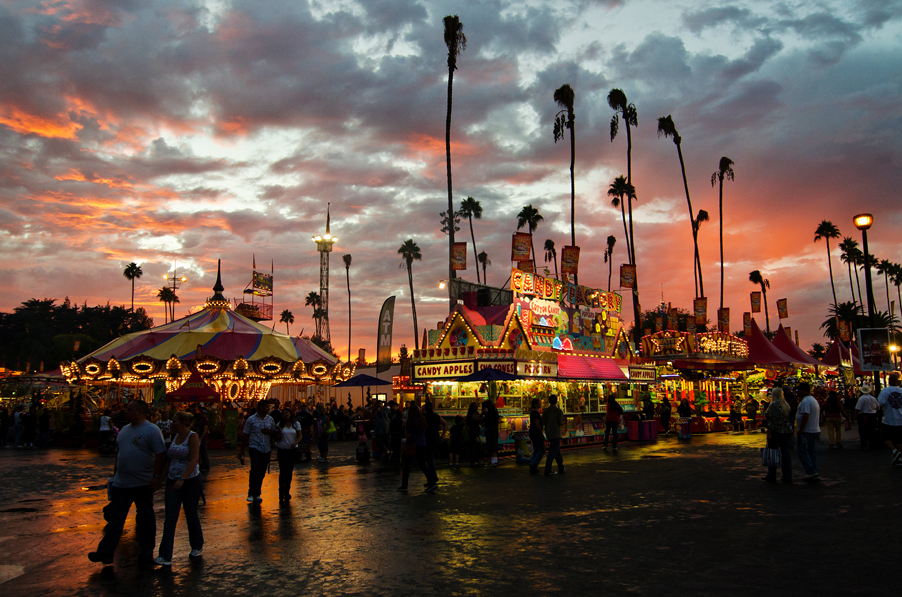 When most people think of the typical American fair, one of a few things come to mind… fried food, carnival, and shopping. Yet, the fair is SO much more and truly and testament of what is great about our country.  It is TRUE AMERICANA all wrapped into one event.
Variety is an understatement when it comes to the L.A. Fair.  It showcases our love for large portions of tasty fried food and tantalizing desserts.  There is the endless wave of inventors and entrepreneurs trying to make it big by selling you the 'next big thing' and the stuff YOU KNOW YOU NEED!  There is of course  tons of fun games and rides to enjoy.  There is a huge farm and tons of animals from the whole spectrum of wildlife for you to touch, pet, and learn about (this year we even had sharks and bears, oh my!).  For the more sophisticated folk there is an art gallery, a wine & beer pavilion (with world-class award winning wines), a flower/garden building with a different theme of botanical beauties every year.  The L.A. County Fair even has heart pounding horse racing at the world famous Fairplex horse track.  One of my favorite parts of the fair are the daily parades that showcase local communities, marching bands, and classic cars.  Daily concerts from big and small acts grace the various stages on the grounds, including the big summer concert series which sells out constantly.  I can't forget the huge Dinosaurs at Jurassic Planet, a favorite of the kids!  I could go on and on…
This year was my 6th year shooting for the L.A. County Fair and it just seems to get better and better every year.  I was there around 15 days and walked about 90 miles this year.  I took almost 10,000 photos, which are used then used for PR, marketing, news outlets, internal usage, etc.  It is so much fun to capture something new and exciting everyday I cruise the fairgrounds… it's what makes my job the best!
I tried to select some of my favorites from this year, as well as some that just show the awesome variety and beauty of the fair.
Most are candid, some are staged and all are a small taste of what makes America great.   🙂